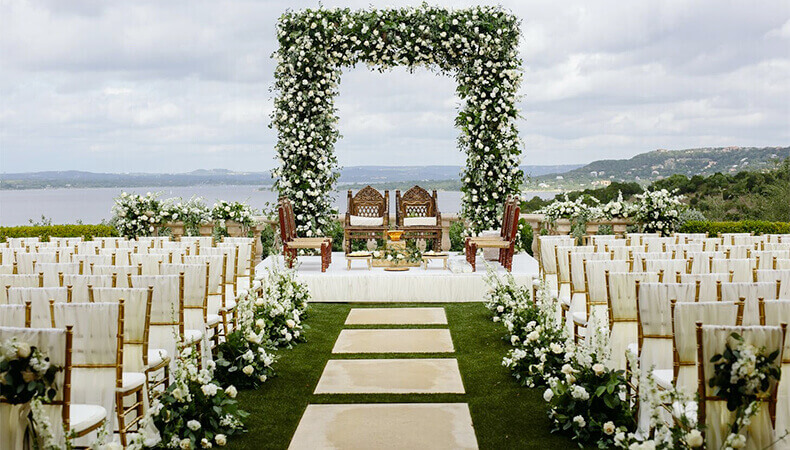 A wedding is often the most important day of your life; it's the one event where only the best will do, and where every detail should be perfect in order to make sure it's as magical as you deserve. One of the biggest choices you'll make is your venue. Not only does your venue determine the mood and feel of a wedding, but it can also help significantly with the overall logistical efficiency of your day.
Recent statistics show that the favourite wedding venue for Britons is a country house or manor (though barns and city weddings aren't far behind). For those of you based in Cheshire or nearby, here are two countryside venues that are guaranteed to make your special day even more magical.
Colshaw Hall
Set deep in the gorgeous countryside between Macclesfield and Northwich, Colshaw Hall is a Grade II listed building that specialises in weddings. More so than most potential venues, it offers a unique experience – classy but simultaneously understated, with a focus on exceptional quality and tasteful visuals. Vast grounds with lush gardens surround a Tudorbethan manor filled with nooks and crannies. It's the ultimate romantic backdrop to any wedding, offering an aura straight out of the Golden Age.
The backdrop might be historic, but the amenities certainly aren't! Colshaw Hall offers modern and comfortable accommodation for you and your wedding party. Rooms are available in the hall itself, as well as in various buildings throughout the grounds, with the quality rivalling any luxury hotel. Entertainment is also guaranteed to be top-notch, with experienced chefs ready to provide the finest of wedding breakfasts as well as snacks throughout the event. For music, there are a number of great Cheshire wedding bands to choose from that span a range of genres.
Capesthorne Hall
Also in the Macclesfield area is Capesthorne Hall, a 1700s estate with a storied history that includes being a location for none other than local favourite Coronation Street. Capesthorne offers the perfect balance of accessibility and atmosphere, being less than 10 miles from Manchester Airport but feeling a world away from the hustle and bustle of the city.
With stunning staterooms for public functions and lavish accommodation for guests, a wedding at Capesthorne Hall can only be described as opulent. The staff here are highly experienced, with many years of experience handling weddings and events between them. Testimonials focus on the level of service, the personal touch offered by staff, and the general friendliness. For those looking to have an unforgettable wedding in stunning surroundings, it's hard to imagine a better venue than Capesthorne.